Today, we are sharing Yelena's story who runs
Lazo
shop on Etsy.com
Please tell us a little bit about yourself
My name is Yelena i am 34 years old. I was born in city of Khabarovsk on far east of Russia .I am married and have 2 kids .
How long have you been creating? How did your journey in art and creativity begin?
My mother showed me how to knit and crochet when I was about 12. I always loved flowers, and the first projected I've finished was gray pullover with white roses. Over the years, I've made small items. I came to USA in 1998 and got married. I discovered many different patterns and my interest had grown from doilies to children pullovers, cardigans and then to crochet jewelry with wire. I found etsy from the cashier at yarn shop. I started with hats, children pullovers and crocheted jewelry. After a year of learning and trying to sell on etsy i received a request for just a flower from the hat i was selling,and that how i became a shop supplier .
What items do you carry in your shop?
Because of my love for colors i offer crocheted flowers in different color combination .Also you can fined hats,crocheted jewelry and children pullovers.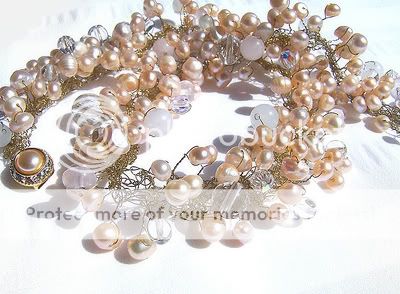 What items in your shop do you most enjoy making and why? Do you take custom orders?
I enjoy making flowers and working with colors.I do take custom order,it is so fun to make color's combination.
What is the most important about your work?
Work with the buyer till they like they color and shade of flowers. Also I've been asked how can my flower be used and if it would work on the idea that they present to me.
What are your main sources of inspiration?
My inspiration is a color of the weather and nature.Colors are all around us in the morning when sun is rising up the sky is filled with colors,when sun set the sky filled with bright warm colors. Butterflies, bugs, birds. Walking with my dog and looking for wild flowers also inspire me.
Do you have a favorite item you have made?
My children cherry blossom t-shirt embellishment.I had that idea for many month i look at the real trees to get an idea for the branches .When i was making small flowers my son (5 years old)come up to me and put light pink flower on top of pink flowers and said i like it this way and i like that to.
Do you use any special techniques or tools
?
I use crochet hook in different sizes.
Any sales or promotions?
For repeat customers i send 10% off certificate with they purchase, and around big holidays i offer free shipping.
Name 3 things you can't live without?
I love yarn, flowers, colors.
What are your best marketing tips?
Use tags (color of your work,what or by who it could be used or where) ,make treasury .